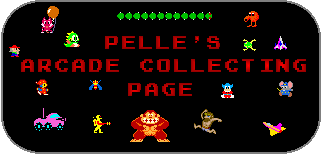 ---
---
My games
Here are specific pages for my games. For various reasons some of the screenshots are rather bad.
NOTE: These pages are about coin up video arcade games. Do not ask me for PC versions of these games!
1941
Aliens
Bionic Commando (bootleg)
Bomberman
BombJack Twin
Galaga '88
Gallag (a Galaga bootleg)
Gals Panic II
Demon's World
Gryzor (Bootleg)
Magic Sword
Mercs (Commando II)
New Zealand Story
Primal Rage
Psychic 5 (bootleg)
R-Type 2 (bootleg)
Smash TV
Super Contra
Solomon's Key (bootleg)
Wardner


I've also got

Games sold or traded:
Bobble Bobble (a Bubble Bobble bootleg)
Rolling Thunder 2
---
Various information:
---
Links:
---

Back to the Pleasure Palace

This page is maintained by Pelle Einarsson

4539 visitors since the latest web server crash.