Previous entry: Quest For Mordor


Next entry: quiz


Back to the Tolkien games home page
---
Quest of Erebor
Author: Sam Ruby
Year: 1987
Version: 6/16/88, 11/24/90 (ProDOS 40-column), 10/25/93 (ProDOS 80-column)
System: Apple II
Type: Text adventure
Covers: Loosely based on The Hobbit
Distribution: PD
Availability: Downloadable (see below)
Licensed: No
Quest of Erebor is an Eamon game (number 128 in the Eamon Adventurer's Guild's list). In it, you must join Bilbo and the dwarves on their adventure east of the Anduin. It is the sixth part of The Lord of the Rings series.
Personal evaluation: I have not been able to play this game very far, but it seems OK, although far from Tolkien's original.
Screen shot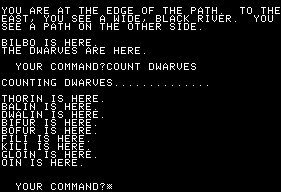 Unlike Beam Software's adaptation of Tolkien's classic, this game features every one of the dwarves.
Net resources
See also