Welcome to the Tolkien computer games pages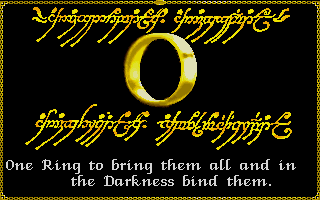 J.R.R. Tolkien worked for an entire lifetime in creating his amazing fantasy world, Middle-earth. This world of elves, dwarves, hobbits and other creatures became the setting for his bestselling novels The Hobbit and The Lord of the Rings. In time, these novels became one of the main sources of inspiration for the growing role-playing hobby, which in turn came to inspire many of the pioneer computer game programmers during the seventies.
These pages, created as a homage to Tolkien and to the many devoted people who brought Middle-earth to new life with their computers, are designed to be a source of reference for the computer-gaming Tolkien fan. All in all, there are more than 100 games known to me and you can search for the ones you are interested in by means of several different criteria. Please click one of the buttons below.
In addition to the games pages themselves, I have created a number of support pages, as per below.
---
---