Previous entry: Perthigal


Next entry: Quest of Erebor


Back to the Tolkien games home page
---
Quest For Mordor
Produced by: Slamsoft
Author: Morgoth
Year: 2000
System: Windows 3.x
Type: Action with RPG elements
Distribution: Freeware
Availability: Downloadable (see below)
Licensed: No
A game about finding an elf ring outside Mordor. Was made with Klik & Play.
Personal evaluation: I have not played it very far, but it is characterized by the usual stiff Klik & Play animations, and by nearly non-existing playability. On the other hand, it does have a nice story-line and an element of non-linearity.
Screen shot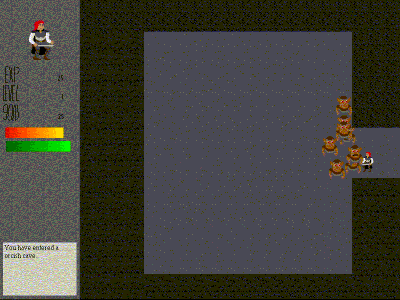 See the hero facing the dreadful orcs. Click on image to enlarge to original size.
Net resources