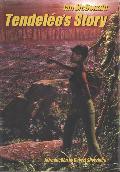 The world of fourteen year-old Tendeléo Bi is small, safe, stable: school, farm, her father's church, the village of Gichichi. Then one night, the Chaga comes, and everything is different. Advancing across the plains of East Africa at ten metres every day, this alien infestation transforms terrestrial life into something strange, perilous, wonderful, and nothing can stop it.

Her village destroyed, Tendeléo becomes a refugee, with one need that drives her on: a place she can call home. Trapped between the relentless march of the Chaga, the UN and Nairobi street gangs, her story moves across a southern hemisphere being terraformed into someone else's terra and beyond: to a love that transcends continents, worlds and a humanity on the edge of a staggering evolutionary leap, and that, like the Chaga, will transfigure everything it touches.

Cover blurb of PS Publishing edition
Tendeléo's Story is an 80-page novella set in the same milieu as Chaga and Kirinya.
The book comes with an introduction by Robert Silverberg which speculates that the story in due course might join with further stories in another Chaga volume (this might be Ananda).
Tendeléo's Story received the Theodore Sturgeon Award in 2001.
Editions
PS Publishing (hardcover)

2000

80 pages. £25. Cover by David A. Hardy.
This edition of 300 copies is numbered and signed by both Ian McDonald and Robert Silverberg.
ISBN 1-902880-13-7.

PS Publishing (paperback)

2000

80 pages. £8. Cover by David A. Hardy.
This edition of 500 copies is numbered and signed by Ian McDonald.
ISBN 1-902880-12-9.

Gollancz

2001

Gollancz has published an omnibus edition of Tendeléo's Story, together with novellas by Paul J. McAuley, Stephen Baxter and Peter F. Hamilton under the title Futures. Edited by Peter Crowther.

Gollancz

2002

Under the title Binary 3, Gollancz has published Tendeléo's Story and Watching Trees Grow by Peter Hamilton as a back-to-back double.
ISBN 0-575-07305-5.

Warner Aspect

2001

This is an American edition of the Gollancz edition of Futures above.
ISBN 0446610623.

St. Martin's

2001

In The Year's Best Science Fiction: Eighteenth Annual Collection edited by Gardner Dozois. 617 pages. Hardcover, 0-312-26275-2 $29.95; trade paperback, 0-312-24617-8 $18.95. Cover by David Hardy.

Robinson

2001

In The Mammoth Book of Best New SF: 14th Annual Collection edited by Gardner Dozois.