Previous entry: Lord of the Rings vol. 2 (CHAOS Productions)


Next entry: The Lord of the Rings, Vol. I (video game version)


Back to the Tolkien games home page
---
The Lord of the Rings, Vol. I
Produced by: Interplay Productions (MS-DOS version) and Chaos Studios (Amiga version)
Distributor: Electonic Arts (previously in the UK) and Interplay Productions
Author: Scott Bennie, Troy Miles, et al.
Year: 1990
Version: 1.3 (MS-DOS)
System: Amiga, MS-DOS, C64 (never released)
Type: RPG
Covers: The Fellowship of the Ring
Distribution: Commercial
Availability: Out of print
Licensed: By the Tolkien estate

This is the first part of Interplay's The Lord of the Rings series. The second part, The Lord of the Rings, Vol. II: The Two Towers has also been released.
The MS-DOS version is available both on disk, CD-ROM and ReelMagic. The CD-ROM and ReelMagic has additional animations from Bakshi's classic but controversial movie adaptation. The ReelMagic version is probably not commercially available any longer.
The MS-DOS version is also part of The Lord of the Rings/Two Towers Bundle. The latest MS-DOS disk version was included in Interplay's 10 Year Anthology CD-ROM collection. Some games were shipped with a clue book.
A playable demo of the MS-DOS CD-ROM version is included in Interplay's CD Sampler 1.
It was originally designed for Commodore 64. It was quite far advanced when the floor dropped from under the Commodore 64 market and it was decided to move on to the PC platform instead and the PC version was made in only nine months (which explains the many hideous bugs of that first version). Even though we will never see the Commodore 64 version, the music from it has somehow found its way to the Internet.
It is interesting to note that the composer of the game's music, Charles Deenen, has never read a word of Tolkien. The theme is extremely similar to that of the movie Flesh + Blood although, according to Deenen, this is purely accidental.
Some of the graphics of the Amiga version have been reused (without permission) in El Señor de los Anillos, Parte I: La Communidad del Anillo (Libro 1).
Personal evaluation: This, along with its successor, is one of the best Tolkien games available. The game frequently does not follow Tolkien's original plot, but most of the time keeps in spirit with the books.
Alternative cover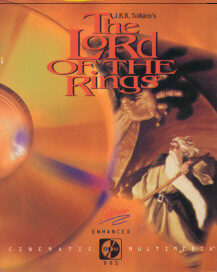 This is the cover for the CD-ROM version.
Screen shots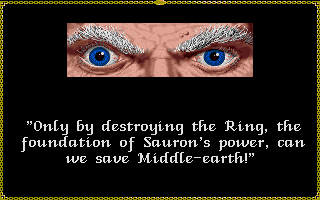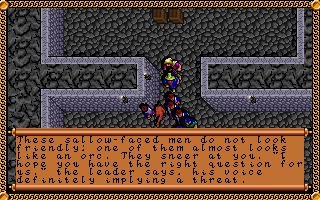 Two pictures from the MS-DOS version. Experienced players of the game: please note Tom Bombadil in the second screen.
Net resources
See also