Previous entry: The Lord of the Rings, Vol I (computer game version)


Next entry: The Lord of the Rings, Vol. II: The Two Towers


Back to the Tolkien games home page
---
The Lord of the Rings, Vol. I
Produced by: Interplay Productions
Distributor: Interplay Productions
Author: Matthew Findley, et al.
Year: 1994
System: Super NES, NES (never released), Gameboy (never released)
Type: RPG
Covers: The Fellowship of the Ring
Distribution: Commercial
Availability: Out of print
Licensed: By the Tolkien estate
This is the video game companion to Interplay's The Lord of the Rings, Vol. I. Even though it has the same title as its PC cousin it is a totally different design and thus a totally different game. It was probably originally intended to be the first game in a series of three, although the successors never appeared due to the decline of the Super NES market.
It was originally designed for the NES system but when, after 18 months, about 80% of that game was completed, it was decided to move the game over to Super NES since that machine was taking over the market of its predecessor. Some preliminary designs were also made for a Gameboy version.
The game allows one to five players. While the original eight-bit design is a relatively pure RPG, the finished program has more action sequences in it.
Screen shot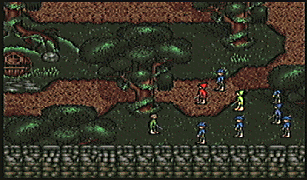 Net resources
See also