Ian McDonald: Criticism
Interviews
2001

Future Remix: Interview by Nicholas Gevers. Interzone #172, October 2001. This interview is also available from Infinity Plus.

1993

Interview by Tommy Ferguson. Vector, Feb 1993.

1992

Interview by Carina Björklind and Calle Dybedahl at ConFuse 92. Månblad Alfa 16, December 1992.

1991

Desolation Road: Interview by Pete Crowther in Fear! 1-91.
Articles
1999

La Peau de l'Autre (Alien's Skin) by Christo Datso (in French). Galaxies, September 1999.
This issue of Galaxies also includes a bibliography of Ian McDonald as published in French. Unfortunately, the bibliography also erroneously includes a story called "My Father's Son" which is by Meg McDonald, not Ian McDonald.

1997

SF and the Troubles by John Newsinger. Vector 194, July/August 1997.

1997

Jan Mekdonald: Magijski realizam iz vilinske zemlje (Ian McDonald: Magic Realism from the Land of Fairies) by Goran Skrobonja (in Serbian). Plavi Motel.

1996

Forum: Aliens and Other Animals: Walls, Mirrors, Pussy-Cats and Assorted Vegetables. Focus, Sep 1996

1994

Crib notes for 'Chaga'. A Mexicon Decade, Harris, Mexicon 6, 1994

1993

Forum: The Rose Backwards. Focus, Dec 1993

1990

Analysis: Ian McDonald's Desolation Road by Julian R. Bills. Overspace #5, February 1990. Overspace is edited by Sean R. Friend & Isabel Freeman. £0.75, 37 pages, A5.
---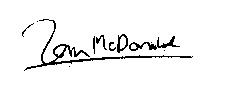 Back to the Ian McDonald information page.

This page is maintained by Hans Persson. Mail me (unicorn@lysator.liu.se) if you have comments or additions.