Welcome to Jana L. Sochor's homepage!
NON SERVIAM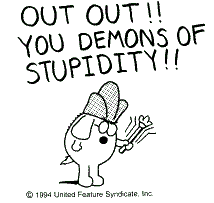 If you are a student, you know all about being only a number and so I thought I would make you feel at home.
You are person number one thousand one hundred and fortyfive to visit my homepage since November 2019. =)
A few of those whom I choose to associate with: Friends, companions and whatnot.
Some things I enjoy: Books
If you feel the need... mail me.


If you've noticed everyone's insecurity and their need for disclaimers, all I have to say is, "Can I play too?". ;-)
The Universal Disclaimer
At some undetermined point in the future this page might change, but don't hold your breath!!!