Previous entry: Eodon


Next entry: The Fellowship of the Ring


Back to the Tolkien games home page
---
An Everyday Tale of a Seeker of Gold
Produced by: Zenobi Software
Distributor: Zenobi Software
Author: John Wilson
Year: 1986
System: ZX Spectrum
Type: Text adventure
Covers: Parody of The Hobbit
Distribution: Commercial
Availability: Out of print
Licensed: No
Originally supposed to be called The Boggit (just like the Delta 4 game), the author decided to change the title, possibly because Delta 4 released their game. Another alternative title seems to have been The Seeker of Lost Gold. It was made using The Quill.
There were three successors to the game: Bulbo and the Lizard King, Fuddo and Slam and Retarded Creatures and Caverns. The first two of these together with An Everyday Tale of a Seeker of Gold constituted the collection The Balrogian Trilogy. The game was also part of the collection Numero Dos.
Personal evaluation: An amusing game, in many respects similar to The Boggit, which is only natural, since both were developed using the same system.
Screen shot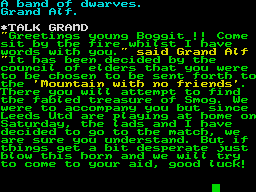 See also