Previous entry: RealmsMUD


Next entry: Return of the Shadow, or Arda, the Fourth Age


Back to the Tolkien games home page
---
Retarded Creatures and Caverns
Produced by: Zenobi Software
Distributor: Zenobi Software
Author: John Wilson
Year: 1989
System: ZX Spectrum
Type: Text adventure
Distribution: Commercial
Availability: Out of print
Licensed: No
Sequel to An Everyday Tale of a Seeker of Gold, this is a game about how Bulbo's old friend Algernon (also known as Stroller) goes about to investigate the old castle Toidi and the dragon living therein. It was made with The Quill. It was also included in the collections Best of the Indies Vol. 1, Balrog's Big Four and Numero Dos.
Personal evaluation: Except for the guess-the-verb syndrom (which it shares with nearly every other Spectrum adventure there is) this is a truly excellent game. The problems are nice and the humour is brilliant.
Screen shot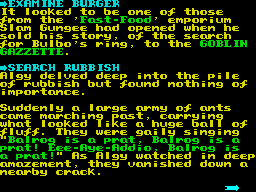 For being a Quill game, Retarded Creatures and Caverns features rather long and detailed texts.
Net resources
See also