NUCCC 96 in Linköping
The Nordic University Computer Clubs' Conference (NUCCC) is an annual weekend meeting, typically in May or June. For more up-to-date information, visit the official NUCCC web site.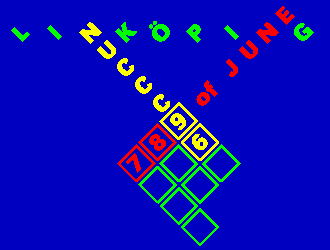 NUCCC 96 was arranged by Lysator in Linköping, Sweden, 7-8-9 of June, 1996. The following is a brief diary of the conference.
Friday 7 of June, 12:00 - 20:00, Arrival

During the afternoon, we visited Linköping University's Department of Physics and were guided through their computer facilities by Peter Eriksson.
We also had a look at the local computer history, where items from Datasaab are on display.

Friday 7 of June, 20:00, Late lunch

In Ryd, close to the University, we had an evening meal and sauna.

Saturday 8 of June, morning, Bull Telco Solutions

A part of Groupe Bull, the worldwide information systems corporation, Bull Telco Solutions in Linköping develops advanced large-scale solutions for intelligent networks, combining the best of telephony and computers. Their OpenVoice platform is the basis for Swedish Telia's telephone answering services Mobilsvar and Telesvar. NUCCC 96 participants paid a visit to Bull's expanding premises at Mjärdevi Science Park, close to Linköping University.

Saturday 8 of June, Lunch at Lysator

Saturday 8 of June, afternoon, Technical Session

Fredrik Noring, Lysator, gave an introduction to MPEG-2 audio compression, music CD quality, and described how this is used in Lysator's jukebox system.
Steinar Hamre, Programvaruverkstedet, and Kolbjørn Barmen, Netverksgruppa, presented Trondheim University's campus-wide user database, which is implemented in the LPC programming language.

Saturday 8 of June, evening, Dinner at Lysator

As we planned for an outdoor barbecue, it started to rain. Instead, we called for pizza instead. 22 of them.

Sunday 9 of June, morning, Non-technical Session

Lars Aronsson presented the reasons behind Project Runeberg, its current state and something about the future.
Linus Tolke presented Svensk-MUD and its challange to expand into new user categories that are not as technically skilled.
At the end of the conference, Dataföreningen in Lund, Sweden, accepted to host NUCCC-97.

Sunday 9 of June, Lunch at the Air Force Museum

As it was the last day of the conference, some had to leave for the train station. The rest of us went to the Swedish Air Force Museum, and had lunch there.

Sunday 9 of June, afternoon, NUCCC Offline Session

The afternoon was spent at the Air Force Museum at Malmslätt, close to the University.
Invitations were sent to computer clubs at universities and colleges in the Nordic countries. A total of 22 participants showed up from Linköping, Stockholm, Lund, Borlänge, and Umeå in Sweden and from Trondheim in Norway.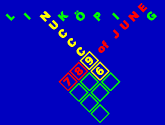 Merchandise: T-shirts featuring the NUCCC 96 logo on the back, as depicted on this web page, and Lysator log on the front, were sold at 120 SEK.
The NUCCC 96 logo is available for download in encapsulated postscript. If you like larger logo, you can use the one from the top of this page.

---
This page was last updated April 2004 by root <root@lysator.liu.se> of Lysator. You are free to quote this page as long as you mention the URL. The line of flags was stolen from det Åländska skoldatanätet.