I was involved in the visual effects work for the non-profit Star Wars fan-film "Revelations" that premiered in April 2005.

You can watch a demo reel (72 Mb .mov) of the effects and a small clip from the 'Behind The Scenes DVD' where I elaborate on the troublesome "bar scene" (the green-screens haunts my nightmares to this day)... Main things I worked on was:
Comping "view out the windows" and all the neon/laser/energy effects into the futuristic "bar scene"
All exteriors on the planet Quarrent III, notably:

comping Audrius Aurbonavicious matte paintings in "pseudo 3d"
rendering the Cougar flying in and landing on the "pseudo 3d" ground.
our heroes running up on the ramp of the ship peeling off (blooper version had screeching tyre noise in that shot)
the exterior shot of the Quarrent III temple exploding

Inside the temple I comped in various "artifacts" (statues, torches)
All light saber effects (although I had help w. the Roto)
The entire "farewell scene", including:

creating a whole new "establishing shot" from scratch
comping in departing space ships on a grassy field
adding distant alien ruins
turn an overcast day into an emotional "sunset look"
Keep in mind when watching it that it was an all "amateur" production. I think we did "ok" in general, but it's not to be held to any über-quality standard... we had some fun in George's universe... that's all...

Intermezzo Dualis - RELOADED
"Intermezzo Dualis - Reloaded", Jedi Master Obi-Zap (see "Kid Wars", below) encounters one of his runaway robotic clones, only this time it has a few... upgrades. And has turned bad. Uh-oh.......

Well worth a download!!

Imagine a mix of Terminator, Star Wars, A.I., Matrix Reloaded and some classical literature themes thrown in a visual f/x filled blender...

Kid Wars - the movie
"Kid Wars" - The Movie, is a Star Wars Fan Film I produced together w. my Kids for fun. Contains some cutting edge Special F/X, including a "Behind The Scenes Documentary". Enjoy. Well worth a download!!

Contains advanced cloning, robots, violence, lasers, light sabres, explosions, space-ships, cute children, and a whole barrel 'o fun!

The 'Nina' videos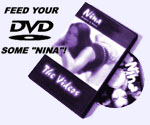 A set of three music Videos I produced for Nina:
"Thousand of a Kind"
A lot of floating, weightlessness, abstract 3D shapes, digital hair replacement and lightwrap in this weightless floaty dream-extravaganza, shot on a simple rotatable greenscreen set
"Trip to the Moon"
Follow Nina with her little spacecraft on her way to the Moon, where she meets someone strangely familiar along the way. 3D/CGI video with live action composited in.
"Fly With Me"
Very simple video done 100% live action in the summer of 2000 using a borrowed camera. Highlight: The local flight club lending us their vintage 1930 biplane!!"


A set of tests, short animations, unfinished projects, and other assorted things

Kid Wars II Trailer
The (in progress) trailer for Kid Wars II. Lots of motion tracking with the help of the fantastic application Icarus. Includes explostions, rocket launchers, lasers, AT-AT walkers in my backyard, and whatnot. All shot with a very shaky handheld camera!! Comments appreciated! :)

Shaky Alien
A short character animation test. The model doesn't win any award, I slapped it together. The "lips" is a mangled torus with 3 morph targets for "lipsync". Model-wise the only good bit is the eyes....

The Alien is dancing to some Shakee Muuuzik (James Brown, no less) and is soon joined by his Robo Partner.

I know it's not the pinnacle of animation but it's interesting how much "feeling" you can get into 3 morph shapes on a torus, wiggling the eyelids (hemispheres) and moving around a little....

Jedi Bipeds
After seeing AOTC one has to try to make a CGI lightsaber battle. Okay so it sucks, but it was a nice test.

Simcloth is used for the flowing cape, but other than that pure raw Character-Studio BIPED's are used - no modelling at all.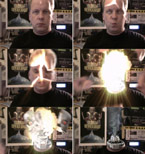 Exploding Head
A visual effects test that ended up in the "Behing The Scenes" documentation for Kid Wars... myhead blowing up for no reason at all. Kinda cute methinks :)