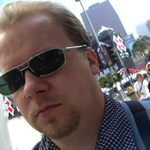 [Click for intro]
"The moon is better than the sun, because the moon shines when it's dark"

Todays featured VFX video:
(Video and Visual Effects by ZapTroNic Productions)
More...
--x--
Music, software, graphics, info, tutorials, fiction and fun.

...to Master-Zap.com, website of Håkan "Zap" Andersson, internet musician, software engineer, F/X artist, programmer, and general crazy guy. Feel free to browse around by clicking the tabs up top yonder!

---
You are guest one thousand one hundred and twentynine since November 2019 which translates to 101 hits per week, and this page was last updated May 2008.