Bibliography of Science Fiction & Fantasy Published in Sweden
This page contains my index to science fiction, fantasy and horror short stories in published in Swedish.
If you find any errors or have information that is missing, please let me know.
The index consists of all short fiction published in the Swedish science fiction magasines (Hugin, Jules Verne-Magasinet, Nya Världar, Häpna!, Galaxy, Nova Science Fiction and Magasin Aniara). I have also included what I have been able to find in other magazines not specialized in science fiction, as well as some short stories published in anthologies. The coverage of anthologies is far from complete at the moment, but will hopefully improve over time.
-- Hans Persson
---
Someone likes this page--I just got an award!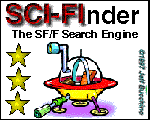 ---
Last modified

RXML parse error: This tag doesn't handle content.
 | <modified>