Wanted!
I'm trying to gather a complete collection of Ian McDonald's fiction. I've got the books down, but there are still some short stories that I haven't been able to find. There is also some critical material that I haven't seen.
If you have anything listed below I'd be very interested in seeing it. If possible, I'd like to buy it but photocopies are also of interest until I can find a copy of my own.
Short Stories
Criticism
1990 "Analysis: Ian McDonald's Desolation Road" by Julian R. Bills, Overspace #5, 1990.
1993 "Interview by Tommy Ferguson", Vector, Feb 1993.
1993 "Forum: The Rose Backwards", Focus, Dec 1993.
1994 "Crib notes for 'Chaga'", A Mexicon Decade, Harris, Mexicon 6, 1994.
1996 "Forum: Aliens and Other Animals: Walls, Mirrors, Pussy-Cats and Assorted Vegetables", Focus, Sep 1996.
---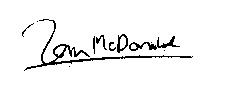 Back to the Ian McDonald information page.

This page is maintained by Hans Persson. Mail me (unicorn@lysator.liu.se) if you have comments or additions.