Hello fellow Dream Theater fans!
I was fortunate enough to get a last-minute ticket to the Dream Theater concert at
Rockefeller Music Hall
, march 27th this year (2000). It sure was a
five out of five
concert.
The concert
---
They brought the latest album (Scenes From A Memory) to life, escpecially with the tv-screens where they showed very tasteful animations and lyrics (close to a kareoke show :-) and the very nice film clips in between where they gave the lyrics a face, so to speak.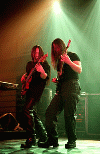 Afterwards, they played the some of the high-lights from there other previous albums, for example
Peruvian Skies
Take The Time
Pull Me Under
Erotomania
Lie
...and many more
They even played tracks from their very first album, When Day And Dream Unite, for example A Fortune In Lies! It was amazing to experience LaBrie's amazing voice. He really kicked Charlie Dominici's ... behind!
Jordan Rudess also seems to be a very talented musician, he filled the "void" after Derek with no problems at all. (Though, I must admit I thought he improvised a little bit too much when the played Pull Me Under, but than again, it's my favourite song, therefore I'm quite picky :-)
Tattoo
---
I'm nowadays the proud owner and carrier of a tattoo on my right upper arm depicting the Majesty logo in white marble. In the future, when I gain access to a scanner, I'll show you exactly what it looks like. If you have a tattoo of your own, be sure to
submit it
(well, at least a picture of it) to the official DT website as requested by Mike Portnoy. (Thanks to
Ernesto Lopez
who brought the message board to my attention)
Dream Theater are gods
no more, no less.



[Updated May 3rd, 2000]