Previous entry: Tolkien Trivia


Next entry: The Trilogy


Back to the Tolkien games home page
---
Tolkien WordSearch
Produced by: Sun Microsystems (original Java applet)
Author: Eric Harshbarger (original Java applet) and Benjamin Milder (added the Tolkien words)
Year: 1997
Type: Puzzle
Distribution: On-line
Availability: WWW
Licensed: No
Find the Tolkien-related words hidden in the letter grid.
Personal evaluation: If you like this kind if game then this is the kind of game you'll like. Me, I just get bored.
Screen shot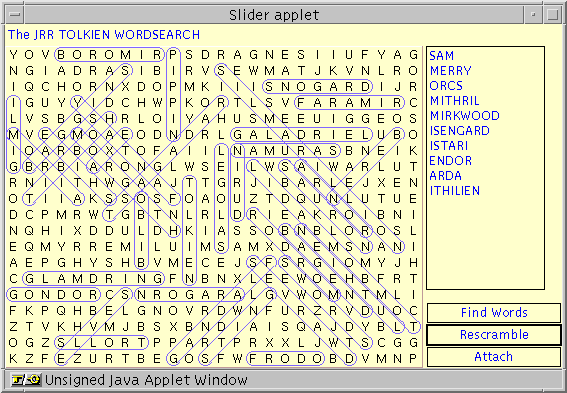 Note how the random character routine played a little trick of its own and threw in the word "ENT" (right-most column, from below upwards) even though it is not present among the words that are left to be found.
Net resources
See also