Previous entry: The Hobbit / The Hobbit Software Adventure


Next entry: The Hobbit: Vol I


Back to the Tolkien games home page
---
Hobbit - The True Story
Produced by: Milbus Software
Author: Fredrik Ramsberg and Johan Berntsson
Year: 1993
System: MS-DOS
Type: Text adventure
Covers: Parody of The Hobbit
Distribution: Shareware (USD 10)
Availability: Downloadable (see below)
Licensed: No
Possibly the first adventure ever written with BAT files(!).
Personal evaluation: Even though it is far too short and too easy to be worth the registration fee, it is very funny and well worth a try just because of the unusual implementation.
Screen shot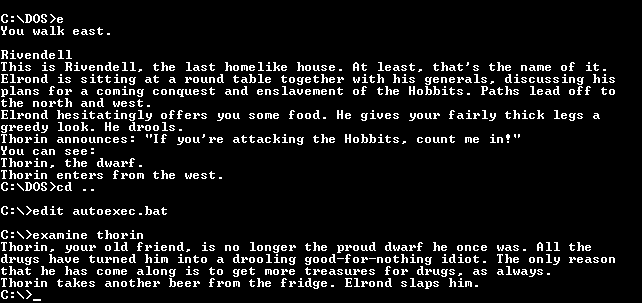 Holy bazookas! MS-DOS has evolved into a complete text adventure. At last I found a good use for the thing!
Net resources
See also