RXML parse error: No current scope.
 | <set eval="<date part=second>" variable="start_s">

RXML parse error: No current scope.
 | <set eval="<date part=minute>" variable="start_m">

RXML parse error: No current scope.
 | <set eval="<date part=hour>" variable="start_t">

RXML parse error: No current scope.
 | <set eval="<countdown seconds since iso=1997-12-01>" variable="surfer_time">

RXML parse error: No current scope.
 | <if variable="accept_index is 0">
 | <if variable="accept_index is 0">


The home pages for the Usenet newsgroup soc.culture.nordic
RXML parse error: No current scope.
 | <if variable="print is 1">
 | <if not="not" variable="print is 1">

<< -

RXML parse error: No current scope.
 | <if variable="print is 1">
 | <if not="not" variable="print is 1">
 | <if not="not" variable="print is 1">

- >>
Skåneland: Skåne, Bornholm, Blekinge & Halland



Subject: 7.6 

Scania

<This section by Malte Lewan>
Malte Lewan also maintains a list over
links to Scanian pages (most in Swedish).
RXML parse error: No current scope.
 | <if variable="tables is 0">
 | <if variable="tables is 0">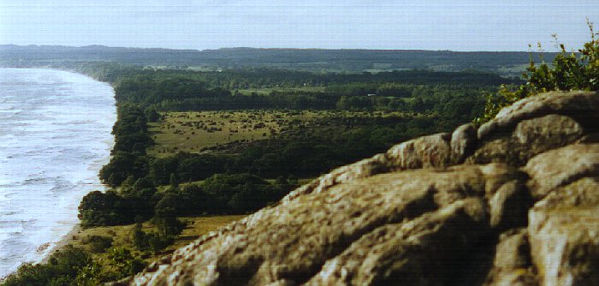 It is close to the water in all of Scania
here the coast at Stenshuvud by Kivik
7.6.1 Skåne and Skåneland
Lat:

Scania,

Eng:

Scania,

Ger:

die Schonen,

Fr:

la Scanie
"Skåne" is old Danish/Scanian and means "the dangerous beach". It is possibly the same word as the contemporary "skada" / "skade" in Swedish and Danish respectively which mean "damage".

Skåne is the most southern of the provinces in Sweden. Together with Blekinge, Halland and Danish Bornholm, it has a unique history while it was an integral part of Denmark all the years before 1658 except 1332-1360 when Denmark had no king and was in chaos and Scania had status as country under the Swedish king.

"Skåneland" in Swedish or "Skånelandene" in Danish is a name used for the four provinces together. In Latin and English it is "Scania". In 1658, they all became Swedish, but Bornholm was returned to Denmark in 1660 while the other provinces remained Swedish.

"Scania" is used for representing "Skåneland" in the text below but not in a strict sense. Sometimes, the meaning might be closer to the province of Skåne. And Bornholm will in this use often not be included. When emphasizing that it is only the southern province that is referred to, "Skåne" is used, but when emphasizing that all provinces are referred to, "Skåneland" will be used.

<< -

RXML parse error: No current scope.
 | <if variable="print is 1">
 | <if not="not" variable="print is 1">
 | <if not="not" variable="print is 1">

Sweden
- >>
7.6.2 Miscellaneous facts
<This section by Malte Lewan>
The populations of the four provinces are today:

Skåne:         1,110,000
Halland:         270,000
Blekinge:        160,000
Bornholm:         50,000


The big cities in Skåne are:

Malmö:           250,000
Helsingborg:     110,000
Lund:             90,000
Kristianstad:     70,000

Some rural parts of Scania are well known as separate parts also by many non-Scanians: Kullabygden, Göinge, Mellanskåne, Söderslätt and Österlen. The borders of these local provinces are very much disputed though. As a rule, the historic areas were smaller than how the terms are used today. Particularly Österlen covers so many positive connotations as a nice vacation resort that the traditional borders often get transgressed when trying to sell real estates for example! The traditional definition of Söderslätt is "south of the highway" (today highway 101) between Malmö and Ystad.
The biggest newspaper is "Sydsvenska Dagbladet" that has its base in Malmö but covers southwestern Skåne equally well. It is independently liberal. In the same area, there are Social Democratic "Arbetet" and Centre Party "Skånska Dagbladet". Several other local papers exist like for example Helsingborgs Dagblad and Nordvästra Skånes Tidningar.
The only university in Scania is Lund University. Other schools for higher education in the same official university area of southern Sweden are situated in Växjö, Kalmar, Karlskrona/Ronneby, Kristianstad and Halmstad. There are also quite big university independent schools in Malmö, and Lund University offers some courses in Helsingborg and Jönköping (the later outside Scania) as well.
There are ferries between Copenhagen and Malmö, Helsingborg-Helsingør, Landskrona-Tuborg (close to Copenhagen) and of course to the islands Ven and Bornholm. There are also ferries to Germany (Travemünde and Saßnitz) and Poland and sometimes to Lithuania. A few other ones exist too.
There are no original ethnic minorities living in Scania but there are a few dozens of thousand of Danes that have moved in after World War II. Some live in Landskrona and others have houses in Northern Skåne. Of foreign citizens, there are 9,800 Danes, 8,700 ex-Yugoslavs and 3,150 Finlanders in Skåne. (These are the three biggest groups.)
---
RXML parse error: No current scope.
 | <if variable="print is 1">
 | <if variable="print is 1">

© Copyright 1996-2001 by Malte Lewan. You are free to quote this page as long as you mention the URL.
The line of flags is modified after a picture at det Åländska skoldatanätet.
This page was last updated March the 10th in the year of 2001.


RXML parse error: No current scope.
 | <if variable="print is 1">
 | <if not="not" variable="print is 1">

RXML parse error: No current scope.
 | <if variable="print is 1">
 | <if not="not" variable="print is 1">

RXML parse error: No current scope.
 | <if variable="print is 1">
 | <if not="not" variable="print is 1">

RXML parse error: No current scope.
 | <if variable="print is 1">
 | <if not="not" variable="print is 1">

RXML parse error: No current scope.
 | <insert variable="start_t">

&scn_m0=

RXML parse error: No current scope.
 | <insert variable="start_m">

&scn_s0=

RXML parse error: No current scope.
 | <insert variable="start_s">

&scn_y=2022&scn_m=8&scn_d=15&scn_f=/nordic/scn/faq761.html&scn_r=">