Note: These might not look like much by today standards - but keep in mind that it was almost 20 years ago, and that I not only made the models and rendered them, I wrote every line of the rendering program myself, and building some of these models in AutoCAD Release 10 or 11 using no solid modelling whatsoever took some doing....
---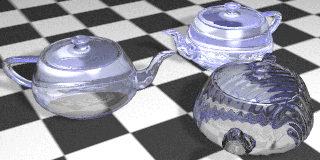 Some ref[rac|lec]ting teapots
The Famous teapot is the benchmark object in Computer Graphics. Naturally, I use it too. Here featuring teapots made of glass (left), diamond (back) and water (front).
---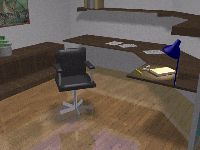 A Waxed Floor (640x480)
This shows the map-mixing capability of RayTracker. The floor consists of two different texture-maps. One with the woodgrains, and another with the "tiles" of the floor. These are repeated at different scales, which means that when one of them repeats, the other does not. The result looks like a very realistic hardwood floor. Finding where the textures repeat is hard. If there would be only one texture map, you could easily see where it repeats (the human eye is very good at picking such things up!)
Modeled by: Autodesk (but I added the table lamp, book, pencil and bolts on the table)

---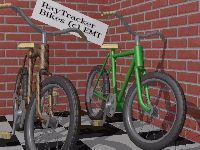 2 Bikes (640x480)
Inspired by "Reds Dream" (by Pixar) I modeled a couple of bikes.
Nothing really advanced technically, but it was a fairly long render... there are many spokes in the wheel of a bike, I can tell you that.... :-)
It says "(c) EMT" in the picture, but that's not true, since I don't work there anymore, and they don't have anything to do with RayTracker any more.
Modeled by:Yours Truly.

---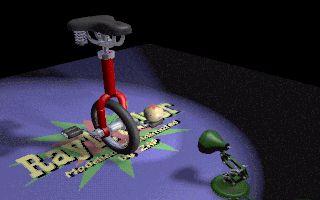 (450k PKZIP'ed FLI animation)
This is an animation (in Autodesk Animator .FLI format, 320x200 pixels) of Luxo Jr and Red (from "Red's Dream") tossing a ball back and forth to eachother.
Being a big John Lasseter fan, I couldn't help but model some of his "stars", and put them in the same little "movie"...
Modeled and Animated by:Yours Truly.

---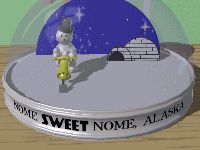 Knick Knack (640x480)
While we are at the "Pixar Fan" subject, I simply had to show my (not very good) rendition of the little snowman from "Knick Knack".
It's not a great model, but, as Depeche Mode has engraved at the center of their first single ["I just can't get enough"]: "It's better than a slap in the face with a wet fish..."
Modeled by:Yours Truly.

---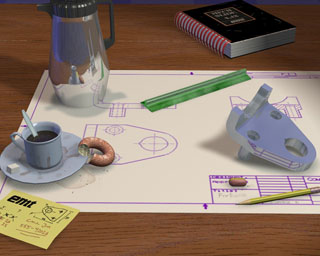 Coffee Break (640x512)
(1280x1024)
My attempt at maximum photorealism. Please note the coffee stains, the donut crumbs, the blurry blueprint, the half-erased pencil markings with little chips of the eraser beside it, the woodgrain in the pencil....
The solid object is made with RayTracker's solid modelling operations. The blueprint drawing is the actual drawing which makes that object, saved from AutoCAD as a GIF file, painted blue and blurred in Photoshop, and used as a texture...
Modeled and so by:Yours Truly.

---
Zoot
This was intended to be an animation, and a long one.... I had the storyboard worked out fine. But with the rendering speed of RayTracker, and events of real life, it never got beyond 150 frames, and only a few models were ever completed. Here is a few: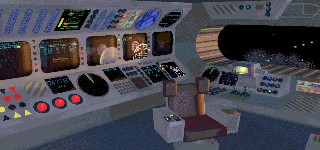 Space ship interior (640x300)
All the readouts are actually .FLI texture maps, which means, they are really animated: Radar scopes radiate, oscilloscopes oshillate, and video screens vidiate.
Neat touch: The planets, seen in one screen, are rendered in RayTracker. The "Tactical display" on the screen beside it, is the same planets, rendered in RayTracker as wireframe....
The storyboard for this animation was all done. There would be a cute (robotic-alien-style) little boy sleeping in the spaceship, his dad sitting playing videogames in the chair pictured above. The kid has a vivid dream of a Terminator style alien mashing the ship...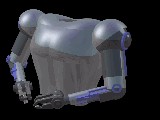 The Killer (640x480)
This is the only part of the killer I modelled for that dream sequence...
The kid would wake up from the dream, scared out of his wits. Jump out of bed, open his toychest (hmm... why are all computer-animated flic's about toys?) and rummage around and find his trusty old laser gun.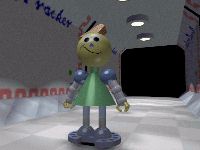 Then he would go out in the corridor, and hear strange noises from the command room (which really is his dad playing videogames, but he thinks it is the alien killer droid he dreamt about).
At the same time, his dad decides to give his little son a cup of tea. He makes a tray with a teapot (guess which one) on, and is about to enter the corridor... the extremely enlarged shadow of the teapot falls on the corridor wall, the kid thinks it is a monster, and raises his toy laser, arms it and.....
It's a real pity this animation was never finished!
Modeled by:Yours Truly.

---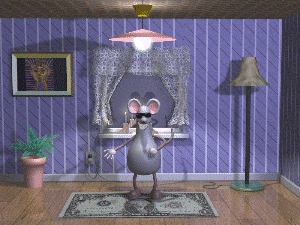 Benji mouse (800x600)
Benji Mouse was an entry for a computer graphics competition, where the winner would get it's picture printed on a mouse pad (in Swedish, "mouse carpet"). Therefore I made this picture, where Benji Mouse demonstrates his nice $1 carpet.
I didn't win, but I got an honorary mention (and my picture in the magazine), and was supposed to receive a T-shirt. Havn't seen the shirt yet tho... :-)
Technically, I a most pleased with the Lace curtain. I am not as pleased with the hand-modelled electric cord.
Modeled by: Yours Truly.

---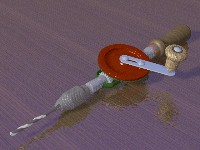 A Drill (640x480)
This is a demo AutoCAD drawing, that I've attempted to make photorealistic. Not very advanced stuff. The procedural wood in the handle could be better (the veines are too dark). But overall, a nifty image...
Modeled by:Autodesk.

---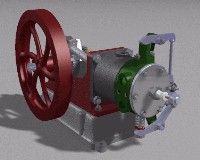 The "Centaur" (375(x2)x564(!?))
One of the two places in the universe who ever bought RayTracker was a school in the town I live, who had an advanced course in "Technical Illustration". The people there were working with airbrushes, paper, pencils e.t.c....
One of their assignment was to draw this old vintage 1800 gas engine, called the "Centaur", from the original old blurprints. They had four weeks to do that task: Make the perspective view (using perspective ruler, tables and a pocketcalculator), and then mask it (cutting holes in cover plastic) and airbrush it.
I borrowed a copy of the drawings, and modelled it in AutoCAD (which wasn't easy, actually). I returned to them a week later, and showed them three renderings of it, including an animation of the thing spinning:
The look on their faces was priceless. There was some amount of fear in it....
Modeled and animated by:Yours Truly.

---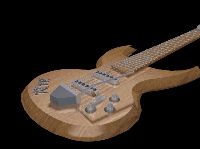 A Guitar (640x480)
Since I am a music dweeb too, I couldn't resist the temptation to render an electric guitar.... (which is wierd, since I mostly play synthesizers and computers!?)
Here, the projective mode of the texturemapping is used, to make the wood grains match on the top surface of the guitar (which is a single curved-edge polygon) and the sides (which is a different smoothed polygon mesh). The model has some bugs where these two surfaces meet (or rather, doesn't meet), but what the hell. It's pretty to look at...
Modeled by:Yours Truly.

---

(Actually, this link-image to my homepage you see here, is also rendered in RayTracker....and it's a real model of the house I live in!)
---