Psychedelic Poster Collection
Here are pictures of my small collection of vintage psychedelic rockposters. They are all made by some of the most famous rock poster artists and included in the highly collectable poster series Bill Graham Presents ("BG") and Family Dog ("FD"). The photos are taken with the posters framed and don't really do them justice.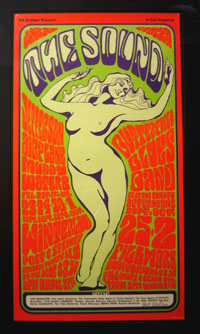 BG-29
A classic by Wes Wilson, the godfather of psychedelic poster art.

Date: 30/9-2/10 1966
Venue: Winterland and Fillmore Auditorium
Bands: Jefferson Airplane, Muddy Waters, Butterfield Blues Band
Print: Fifth print from 1967 or 1968, signed by Wes Wilson.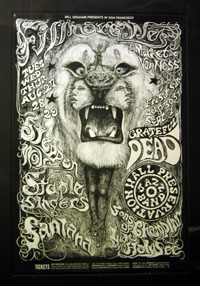 BG-134
Lee Conklins classic Santana Lion. Note how the picture can be seen both as a lion and as a black woman in a straw skirt, and with a lot of hidden faces around her in the lion parts. Typical Conklin. A variant of theme was used as a cover for for Santanas debut album.

Date: 27/8-1/9 1968
Venue: Fillmore West
Bands: Grateful Dead, Santana, Steppenwolf, Staple Singers, Preservation Hall Jazz Band, Sons of Champlan (sic)
Lights: Holy See
Print: Second print from 1975, signed by Lee Conklin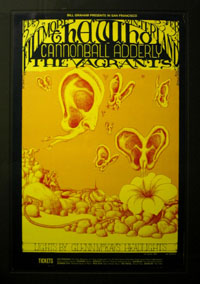 BG-108
Another great Lee Conklin work.

Date: 22/2-24/2 1968
Venue: Fillmore Auditorium and Winterland
Bands: The Who, Cannonball Adderly, Vagrants
Lights: Glenn McKay's Headlights
Print: Second print, probably from 1969-1971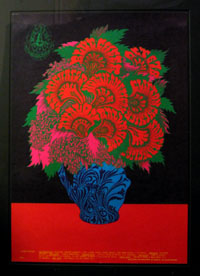 FD-86
One of my favourite Victor Moscoso pieces, the Flower Pot.

Date: 6/10-8/10 1967
Venue: Avalon Ballroom
Bands: Blue Cheer, Lee Michaels, Clifton Chenier
Lights: North American Ibis
Print: First print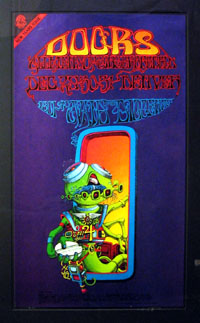 FDD-18
Pay Attention aka Space Man, a Family Dog Denver poster by the great Rick Griffin.

Date: 29/12-31/12 1967
Venue: 1601 West Evans Street, Denver, CO
Bands: The Doors, Allmen Joy, Gingerbred Blu
Print: It has been debated whether this variant is a first print or a reprint. It is a first print according to the certificate I got from Wolfgangs vault, but recent findings show that it might in fact be a reprint.
---

Back to the art page

This page is maintained by Pelle Einarsson

There have been 94919 visitors to the page.