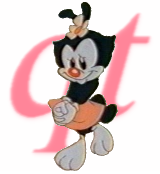 qt - a QuickTime player for the Amiga
Overview
qt is a QuickTime player i wrote for my A4000 because I wanted something for my new 68060 to chew on. I then added CyberGraphX capabilities to give my new CyberVision64 something to chew on. Then I released it, and people started using it. Which of course prompted people to start nagging about features they wanted added. Some of these I have implemented, and today the status of qt is something like this:
System requirements

68020 CPU or better, AmigaOS 2.0 or better.

Supported animation formats

RLE, Cinepak, Road Pizza, JPEG, SMC

Supported sound formats

RAW, TWOS, IMA4, MAC3, MAC6
Download
The latest avaiable version is qt2.0. You can get it from:
Documentation
The AmigaGuide documentation is available online.
Screenshots
I realize this is kind of silly as you won't be able to see anything move or hear any sound, but nevertheless I've prepared a screenshot of qt playing a movie on a Workbench screen for you...
qt 2.0
News flash!!! qt 2.0 has now been submitted to AmiNet. It is available in the gfx/show drawer of AmiNet as you read this. Check out the final specifications and a nice screenshot on the qt 2.0 page.
Links to other places
Here is are some links to sites where animations playable with qt can be found:
QuickTimes galore.
Lots of clips from Disney movies available.
Clips from WB movies available.
An Online Video Magazine from Protozoa Inc.
Anime QuickTimes at Berkeley.
Many links at Apple's QuickTime site.
Dot Warner image is © Warner Brothers and used without permission
---



marcus@lysator.liu.se Last modified: Thu Aug 24 18:57:51 MET DST 2000