Flying is another great hobby of mine. I have a PPL(IR) Private Pilot License for Aeroplanes with an Instrument Rating. I'm a member of Linköping's Aero Club, one of the largest in Sweden.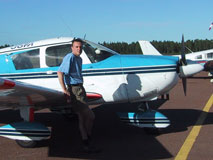 On the right: Me and a PA28-180 belonging to Malung's Aeroclub on a trip to Dala Airport in Mora.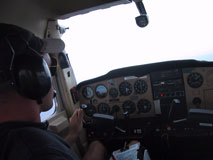 On the left: On my way back from Kristianstad with a C152 from Linköping's Aeroclub.
Other things I enjoy, summarized:
Listening to good music
Jean-Michel Jarre being the favorite, but also U2, Marillion, Duran Duran, and Sisters of Mercy to mention a few. Electronic music such as S.P.O.C.K, Covenant, Saft, Apoptygma Berzerk, Statemachine, and VNV Nation is also interesting.
Eating spicy food
Thai, Mexican, and Indian, perhaps. Sometimes even cooking myself :-)
Having a beer or two
This is a good one.
Watching sci-fi movies
Some of my favorites would be Star Wars (all of them), Matrix, and Terminator. When it comes to TV-series, Star Trek TNG, Voyager, or X-Files will do.
Skiing
Downhill in the winter, water-skiing in the summer (weather allowing, that is...)
Hiking
In the Swedish mountains this summer, but also in the surroundings of Linköping.
Soccer
I'm #13 in the Sectra team. I suck the big one, but it's great fun nontheless.