ABCWin
Version 1.1 (2004-05-08) of the ABC80 emulator for Windows.
TBL Bit
My contribution to the PC 4k Intro competition at Assembly 95 in Finland.
Conan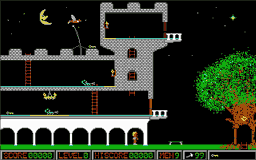 A nice-looking, but not quite finished, game I wrote several years ago. My first larger C-program, I think. Supports EGA (ugh yuck blah). Don't take this one too seriously...
Back to 'The World of Exon'