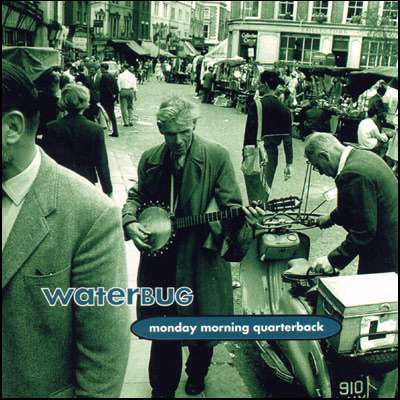 Waterbug
WeCD 123 - Monday Morning Quarterback

Liberian Spacemachine         [2.46]
Yellow                        [3.47]
Somewhere Out There           [3.17]
Time                          [3.18]
The Stallion                  [2.43]
Eggman                        [3.42]
Brand New Mexican             [3.28]
How Much Rock'n'Roll Are You? [2.56]
For You                       [1.49]
Parts                         [3.18]
Mistakes And Orangejuice      [3.19]
I Believe In Fairies          [2.31]
He's Not a Rocker             [4.32]
Hejdå*                        [1.25]

Recorded at: Studio Fredman, Gothenburg and Rumble Road, Skellefteå

---
Produced by: Waterbug and Fredrik Norström.
Engineered by: Fredrik Norström and Kjell Nästén.
Mixed by: Kjell Nästén and Waterbug.
Cover Photo by: Rein Välme.
Band Photo by: Patrik Wassberg.
Sleeve Design by: Peter Eriksson.

Lead Vocals & some Guitars: Rickard Nilsson.


Guitars: Robert Nilsson.
Guitar: Anders Rasmussen.
Bass: Patrik Jonasson.
Drums: Pelle Hedlund.
Additional Musicians:
Percussion: Daniel Gibson.
Cello: Kristina Karlsson.
Guitar & Synth: Fredrik Norström.
Piano: Mattias Kågström.
Vocals: Magnus Wikström.
Trombone: Elmer Granlund.
Trumpet: Patrik Granlund.
Thanks to: family and friends. Kjell Nästén. Fredrik Norström. Ulrika Aronsson. Patrik Wassberg. Patrik Löfdahl. No-skolan. Skellefteå PD. Joakim Wallström. Tofflan. Peter. Eric.
*Bengt Ernryd
Read the (soon to come!)...

This page was originally created by Erik Söderström on May 13th, 1996.
---





You are visitor

RXML parse error: This tag doesn't handle content.
 | <accessed>