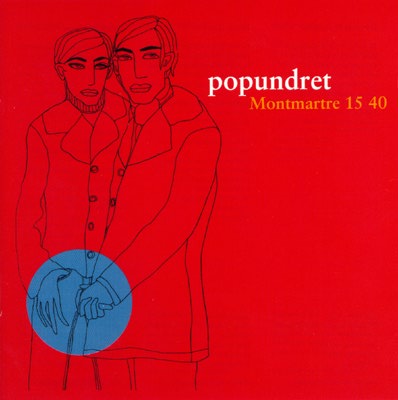 Popundret
WeCD 114 - Montmartre 15 40

Life Can Be So Hard         [2.12]
Shiver Gone                 [1.56]
Friendship Love             [3.13]
Behind Her                  [2.38]
Radiant Warmth              [1.19]
Happy Great                 [1.38]
Hollowed Grief              [3.04]
I'm Going Out She Said*     [3.19]
It Doesn't Matter To Me     [3.33]
Tiger Woman                 [2.52]
That What Makes Me Love You [3.22]
Harriet                     [2.55]
Go Find The One             [4.17]

Recorded at: Carpenter Road Studios, Piteå

---


Published by: Tambourine Songs.
Engineered by: Mikael Uveskog, Mathias Liljeblad and Anders Hannus.
Except "Shiver Gone":
Recorded at: Rumble Road Studios, Skellefteå.
Engineered by: Kjell Nästén.
Mastered at: Rumble Road.
Music by: Popundret.
Lyrics by: Magnus Nilsson.
Mixed by: Mikael Uveskog & Popundret, tracks: 1, 4, 9, 10.
Mixed by: Kjell Nästén & Popundret, track: 2.
Mixed by: Mathias Liljeblad & Popundret, tracks: 3, 11, 13.
Mixed by: Anders Hannus & Popundret, tracks: 5, 6, 7, 8, 12.
Cover Drawings by: Lovisa Burfitt.
Sleeve Design by: Peter Eriksson and Popundret.
Guitars, Claps, Percussion, Backing Vocals: Peter Eriksson.


Vocals, Claps: Magnus Nilsson.
Bass: Martin Wiklund.
Drums, Claps, Xylophone, Marimba: David Johansson.
Guitars, Synth, Tambourine, Organ, Claps, Backing Vocals, Grand Piano: Magnus Ericsson.
Additional Musicians:
Drums on "Shiver Gone": Jari Haapalainen.
Cello on "Behind Her": Henry Morgan.
Popundret would like to thank: Anouk Aimee, Harriet Wheeler, Lovisa Burfitt, Jari Haapalainen, Jocke & Jörgen, Kjell Nästén, Patrik, Marielle Greger & Mika, Maria Marklund, Tom, Nicke Åkerlund, Dabbe, Susanne, Ola, David & Marika, Jonas Burström, Jonas Wiklund, Offe, Fredrik Hedlund, Cajsa, Frolle, Peter Bergman & family, Mona, Anna, Malin, Sara, Lulle Sturve & Lais, Mattias Richtman & family, Chez Bob FC, Staccato, Lake Brut Bar, a Shrine, Stardog, TSM, The Bear Quartet, The Wannadies, TPD, Mary Go Round, Tommy 16, Blissful, The Drowners, Stickboy, Rebecca, Backfisch, Boolteens, Blissful, Garp, Opel Hardcore, Fireside,
Magnus Ericsson thanks: Mum, Ludwig, Dad, Ingegerd, Eric, Erica, Grandma Hagar, Grandpa Tore, Grandma Ulla, Jörgen, Anna-Karin, JJJ Bros, Christer, Morön BK, Skellefteå AIK Hockey, The Gunners and Myself.
Peter Eriksson thanks: My Family (past & present), Anna, Robert, the friends I grew up with and those I have today. Lovisa for being helpful.
Magnus Nilsson thanks: Mum, Dad, sister & little Linn, my brother & Jorunn, The Widmark family & Nikita, The Stenlund family, Stigs, Grandma Harriet, Erik, Hugo, Gunhild and the rest of my family.
Martin Wiklund thanks: Mona, Family, Morön BK, Citykamraterna BK.
David Johansson thanks: My brother and sisters, Stationen, Rikard, Lizzy, Russ Meyer, Jonas H.
Write To Popundret:
Popundret, c/o Eriksson, Norrbölegatan 22, 931 41 Skellefteå, SWEDEN
*And How Would I Know
Read the (soon to come!)...

This page was originally created by Erik Söderström on May 13th, 1996.
---





You are visitor

RXML parse error: This tag doesn't handle content.
 | <accessed>