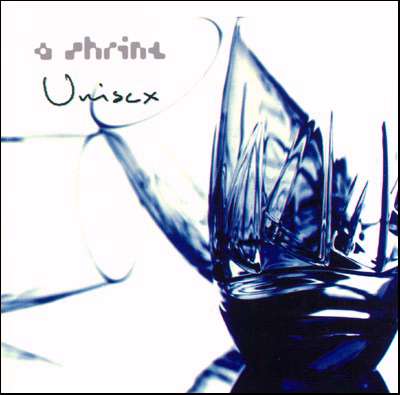 A Shrine
WeCD 120 - Unisex

Unisex           [5.03]
Part Of The Play [5.26]
For My Own Good  [5.57]
Sad Bad Evil     [5.15]
Rescue           [3.41]
Everyone         [5.02]
Pitch            [4.48]
Royalty          [4.18]
Echo             [4.37]
By Heart         [4.13]

Recorded at: Rumble Road Studios, dec 95 - jan 96.
Published by: Tambourine songs.


---


Lyrics by: Magnus Ericsson except "Royalty" by Marielle Nyström.
Music by: A Shrine except "Unisex", "Sad Bad Evil" and "Pitch" by A Shrine and Tea Al?, "Royalty" by A Shrine, Fredrik Kallander and Marielle Nyström.
Produced by: A Shrine and Tea Al?.
Engineered by: Kjell Nästen.
Mixed by: A Shrine, Tea Al? and Kjell Nästen.
Photos by: Ola Wikström.
Sleeve by: Peter Eriksson and Magnus Ericsson.
Drums: Bjarne Lestander.
Guitar: Daniel Söderberg.
Guitar: Jonas Hellgren.
Bass: Magnus Holmgren.
Guitar & Vocals: Magnus Ericsson.
Programming by: A Shrine.
Additional Programming by: Tea Al?.
Additional Musicians:
Keyboards: Tea Al?.
Wurlitzer on "By Heart": Mattias Kågström.
Lead Vocals on "Royalty": Marielle Nyström.
Turntables on "Royalty": Mattias Bygden.
Trumpet on "Everyone": Patrik Granlund.
Programming on "Royalty": Fredrik Kallander and Magnus Ericsson.
Violin on "Sad Bad Evil": Anders Johansson, Helena Lundberg and Boel Nilsson.
Cello on "Sad Bad Evil": Kristina Aldenbjörk.
Strings on "Sad Bad Evil": arranged by Magnus Ericsson and Tea Al?
Additional Hangoutinthestudio: Eric Lindkvist, Peter Bergman, Ola Wikström and Chief Ragga Kågström.
Love and respect to: our parents, relatives, lovers and friends.
A Special Thank You goes out to Tea Al?
A Shrine says Morön BK 4ever and ever.
Read the (soon to come!)...

This page was originally created by Erik Söderström on May 13th, 1996.
---





You are visitor

RXML parse error: This tag doesn't handle content.
 | <accessed>