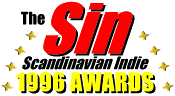 The Scandinavian Indie subscribers have voted in the 1996 Scandinavian Indie Poll, and the results are presented on this page! Thanks to Totte Pop (totte.pop@swipnet.se) who gathered, trixed with and compiled the results!




A - Best Album
B - Best Single
C - Best Scandinavian Album
D - Best Scandinavian Single
E - Band We Couldn't Live Without
F - Most Promising New Act
G - Most Amazing Live Experience

H - Most Fancied Indiepop Personality
I - Best Music Fanzine
J - Best Music Magazine
K - Best Label
L - Best Musical Event
M - This Sucked




---
---
A. BEST ALBUM:
---
1. STEREOLAB - "Emperor Tomato Ketchup"
2. R.E.M. - "New Adventures In Hi-fi"
3. SUEDE - "Coming Up"
4. HOLIDAY - "Ready, Steady, Go"
5. SOUNDTRACK OF OUR LIVES - "Welcome To The Infant Freebase"
BOB HUND - "Omslag: Martin Kann"
ELECTRONIC - "Raise The Pressure"
DEVINE COMEDY - "Casanova"
---
B. BEST SINGLE:
---
1. THE CARDIGANS - "Lovefool"
2. SUEDE - "Trash"
3. BOB HUND - "Istället För Musik: Förvirring"
4. FIDGET - "Semi-Naked"
5. BLUETONES - "Slight Return"
SUEDE - "Beautiful Ones"
---
C. BEST SCANDINAVIAN ALBUM:
---
1. BOB HUND - "Omslag Martin Kann"
2. THE CARDIGANS - "First Band on the Moon"
3. KENT - "Verkligen"
4. SOUNTRACK OF OUR LIVES - "Welcome To The Infant Freebase"
5. KOMEDA - "The Genius Of Komeda"
---
D. BEST SCANDINAVIAN SINGLE:
---
1. FIDGET - "Semi-Naked"
2. BOB HUND - "Istället För Musik: Förvirring"
3. SOUNDTRACK OF OUR LIVES - "Homo Habilis Blues EP"
4. LOOSEGOATS - "Country Crock"
5. FIRESIDE - "Left Rustle"
THE CARDIGANS - "Lovefool"
---
E. THE BAND WE COULDN'T LIVE WITHOUT:
---
1. BOB HUND
2. SUEDE
3. YVONNE
4. RED SLEEPING BEAUTY
5. MY BLOODY VALENTINE
BJÖRK
STEREOLAB
Comments: ......Men Without Hats, Elvis, U2, Coca Carola.....
---
F. MOST PROMISING NEW ACT:
---
1. FIDGET
2. GENEVA
3. SHALLOW SOUNDWAVE
4. LOUSY
SUPERSWIRLS
BIS
MONOSTAR
Comments: ....Blur, Eggstone, Smiths, Elvis.....
---
G. MOST AMAZING LIVE EXPERIENCE:
---
1. KENT
2. BOB HUND
3. TEENAGE FANCLUB
4. SOUNDTRACK OF OUR LIVES
JON SPENCER BLUES EXPLOSION
LIBERATOR
YVONNE
CARDIGANS
---
H. MOST FANCIED INDIEPOP PERSONALITY:
---
1. EBBOT LUNDBERG - SOUNDTRACK OF OUR LIVES
2. LOU BARLOW - SEBADOH
3. LIAM - OASIS
Comments: Erik 'Chief' Söderström, Jennie Medin, Thurston Moore,
Vilunki (Larry and the Lefthanded), Jari (Roope and the Rockets),
MATEO (SIESTA), Elvis, Nina Persson, Sarah Blackwood,
Laetitia (Stereolab), Björk, Sadier (Stereolab), Liz Phair,
Karin Dreijer, Phoebe Summersquash (Godrays), Amy (Go Sailor),
Karen (Bunnygrunt), Joby (Divine Comedy), Amelia Fletcher!,
Bengt Wallman (Excitments), Thomas Öberg, Brett Anderson,
Stefan Zachrisson, Maria McKee, Roger Karmanik, Totte Pop...
---
I. BEST MUSIC FANZINE:
---
1. POPÖGA
2. GOSPEL
3. COMMON PEOPLE
SOUND AFFECTS
Comments: Scan-Indie, Digital Rundgång, Benzine, Close-Up, Maximum Rock N' Roll,
Absurd, WANTED, Propaganda, Thicker, Mutiny!, Pandemonium, Garlic Press,
Chouette, The Sound Of Suburbia, Caught In Flux, You Could Do Worse,
Yividzine, Kawaii, Benno, Savage, Rivendel, Soma, Eskathos, Obsessive Eye,
Audio Drudge, EttNollEtt, Finnens fanzine!
---
J. BEST MUSIC MAGAZINE:
---
1. NME
2. POP
3. MELODY MAKER
4. SOUND AFFECTS
5. NÖJESGUIDEN
Comments: Spin, Souna, magnet, Rumba, Select, Pandemonium, Inrockuptibles,
Kicks, Speak, Backstage, Wire, On, Dont read em!
---
K. BEST LABEL:
---
1. NORTH OF NO SOUTH
2. SIESTA
3. MATADOR
4. CREATION
5. TOO PURE
DORIAN
GRIMSEY
BAD VUGUM
Comments: Silence, StartRec / Startracks, Desperate Fight Records, White Jazz,
Haircut Records, Hi-Road Records, A West Side Fabrication,
Slask Records, Mega Records, Cold Meat Industry, 4AD, touch&go,
Quarterstick Records, Vibrafon, Marsh Marigold, Trash Can, Impulse,
Nude, Island, Bad Taste, Minty Fresh, Slumberland Records, Sub Pop,
Domino, Drag City, Rhino, Harry Lime, march, K, Throwing Music,
Mute, Heavenly, Crypt Records, Harriet, Jigsaw, Beat Butchers,
Wall of Sound, Cold Meat Industry, World Serpent, Ash International,
Staalplaat.
---
L. BEST MUSICAL EVENT:
---
1. LOLLIPOP
2. HULTSFRED FESTIVAL
3. ROSKILDE FESTIVAL
---
M. THIS SUCKED:
---
1. OASIS
2. JUMPER
3. MACARENA
4. RIDE SPLIT
5. MUSIC
MY FORMER GIRLFRIEND
Comments: No new Pink Floyd album, The TV show "Sikta Mot stjärnorna",
No Doubt, Alanis Morisette, Just D, Swedish indie pop,
Swedish commercial radio, Swedish evening press, Ramones quitting,
Hultsfred Festival, Popstad 96, Superswirls at Sommarens Sista Suck,
Pelles haircut, Macarena (christmas version), Spice Girls -
"Wannabe", Bush, Celine Dion, The prices for shows at the knitting
factory, nyc!, semi-gloss, Liz Phair didn't release anything,
Honey Is Cool were silent, Evan Dando has actually really lost it,
The Pet Sounds Sessions box set was delayed, Melony, airoplane
crashes, recycling (Ballard- Cronenberg), stupid girls (not the
song without "s"), Gus Gus, U2 didn't release their new album,
Suede didn't play in Lund, Oasis didn't play in Lund, Hootie II,
Madonna and her child, Death of Tiny Tim, Sex Pistols Tour,
Kiss Tour, and anything to do with Marilyn Manson, Noel Gallagher,
No more Stone Roses, Verve, Deep Turtle split up, Roope went to
Canada, Archers Of Loaf "all the nations airports", Tortoise
"Millions Now Living Will Never Die", The Grifters "Ain't My
Lookout", Guided By Voices "Under The Bushes Under The Stars",
Funhouse, Eilert Pilarm, Boyzone, Dracula, Tupac, Sive, All egos
in the music business, Loads of good bands splitting up, Not
having any money, THE MISFITS Not releasing "glow-in-the-dark"