MIDEM@Cannes 1997
   Report by: Hans Lindell / Rockfile News/Media
   Photos by: Mats Olsson / Rockfile News/Media
   Written exclusively for Scandinavian Indie




M I D E M
The number one annual meeting place for the decision makers in the music industry, marketing people and producers!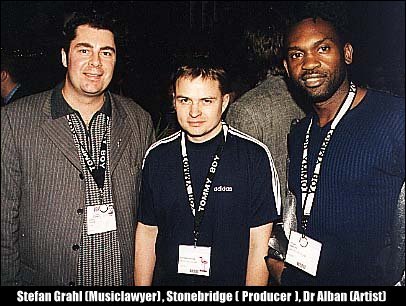 There is no question whether to go to the MIDEM music fair in Cannes, in the south of France at the end of January every year, or not, for those within the music business elite, just as there is no question for any national athletic team whether to go to a World Championship tournament or not.
Actually, one can not completely compare MIDEM with a tournament, because Cannes is not where the fight over the market shares is held, but it is the place where a large part of all contacts are made, negotiations are held, contracts are signed and the future for thousands and thousands of musicians is decided.
To participate at MIDEM is like a sign of quality for the people in the music business. "See you at MIDEM" is a common invitation, to which it might be a bit embarrassing to answer "No we are not going there". Such an answer may be interpreted as if something was wrong with your company, that the company is too fresh and without resources. Or maybe, quite simply, that the company is not a serious one.
Of course, one can work within Sweden without going to MIDEM, but when it comes to non-domestic contacts, to never go to MIDEM and keep the company and the contacts in a working state, is very probably a lot more difficult, if not impossible.
Among the Swedish visitors at this years's fair, one could find veterans like Dag Häggquist from Gazell Music, who celebrated his thirty first jubilee and first timers like Ben Marlene from Jimmy Fun and Helena Svärd from NONS Records.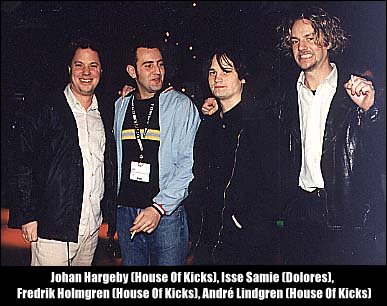 Many people from all over the world have been at MIDEM five-ten-fifteen times in a row, which results in many happy reunions between competitors and business partners alike.

At MIDEM, video, radio stations as well as services and equipment that has something to do with the music industry is marketed. This year, one could find a lot of companies offering different services and solutions for music marketing with the help of multimedia and the Internet at the special "Multimedia Pavillion". At several places, one could also find "The MIDEM Webclub" where all visitors had access to computers in order to surf the net, get needed information or send and read e-mail.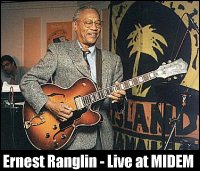 If MIDEM in Cannes is the number one meeting place, the arrangers have started to compete with themselves by arranging two other MIDEMs. One in Hong Kong in May, and one in Miami in September.
This year's MIDEM in Cannes, which was the thirty first one in a row, about 11.000 people from 3.395 companies and organizations participated. A total of 85 countries were represented.
From saturday January 19th to thursday January 23rd, 52 concerts were held, where most of the participating companies presented several artists under different themes like Reggae, Rocks Cannes, Japanese Night, The Best Of British, Euromix, Nashville, Songwriters Association, Euro Dance Party, Les Dance d'or, Detroit-Paris, and so on.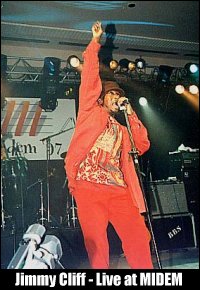 Well known names, like Jimmy Cliff, Shaggy, Toure Kunda, Brainpool, Robert Miles, Mr President, Los Del Rio, Culture, Terje Rypdahl, Jan Akkerman and several others, represented a big mix of different music styles.
Lesser known bands and artists got the chance to show themselves at several places. One of them was right outside Palais des Festivals in Magic Mirrors, where a total of fourteen bands played under the theme "Talents -97". We might hear more from names like Ultra Orange, Bazbaz, Castafiore Bazooka, Zoomtop Orchestra and La Foule in the future. At the Cannes youth center MJC Picaud, bands like Kill The Thrill, Tripod and Las Wampas played, and at the Amiraute on Palm Beach, unknown bands like Cribb 199, Aux 88 and Dulce Pontes held their concerts. At Europe's oldest discotheque, Whiskey 'a Gogo (opened 1960), some of the world's best DJ:s played, like Carl Cox, Bruno Guez and Toni Rox, between midnight and 5am.
Thousands of bands who did not perform live received promotion through the enormous amount of "samplers", or promo-CDs, which were spread around during the week. Among the many examples, one can mention Swedish bands like Superswirls, Brainpool, Broder Daniel, Bumblebees, The April Tears, The Family Tree, etc. who now have their samplers spread around the world.
Roasting House from Malmö celebrated their ten year anniversary by first having a lottery where the prize consisted of a free week in their studio (which was won by Per Alexandersson from P3), and then giving away a full-length CD with Crayfish, These Blue Days and Subculture among others.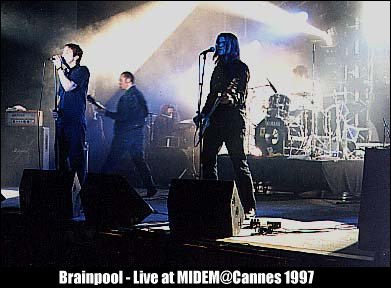 During the week, 23 conferences and seminars were held, with themes like Clearing Multimedia Rights, How Useful Are Pluggers?, A Digital Update, What Distributions Networks For The Future, and Business From The Underground.

One of the most interesting seminars was "Music on-Line, A Revolution Beyond The Desk" which brought up the question about what the music industry can do to survive when the consumers, in the near future, are able to download music files with CD quality to their computers at home via the Internet. Brett Atwood from Billboard, Gabriel Levy - BMG Entertainment, Brian Pertl - Microsoft, among others, shared their thoughts about the subject.

Another interesting seminar was held about "Europe, Music And The Young Generation". This seminar went on during the whole day (monday), and the discussion presented the subject of influence, possibilities and effects when it comes to young people. Among the twenty five speakers, one could find names like Xavier Rox - MIDEM, Nana Mouskouri - who represented the European Parliament, Jean Michel Baer - the European commission, Mark Jones - Wall of Sounds and Brian Eno.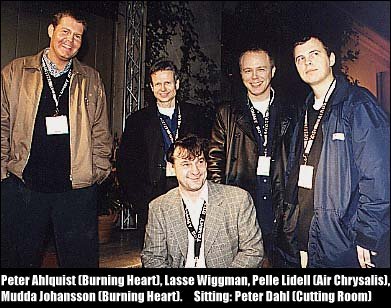 Sweden was represented by 85 companies, of which record companies, music publishers and distributors made out the biggest part. Hardware companies like CD-Plant and DCM as well as organizations like STIM and SOM were also present. The Music Fair in Gothenburg was also there, creating new contacts and gathered ideas for the 1998 fair. Media companies like Sveriges Radio, Topp40, Appollon Bild & Film, Rockfile and Sweden's leading pre-mastering company; Cutting Room were also a part of the Swedish crew.
The Swedish booth, where Export Music Sweden had gathered many of the Swedish companies, was one of the largest at MIDEM, and the interest from the whole world in Swedish music is, as expected, big. Something that never stops to puzzle business people in the music industry.
"Do you have special greenhouses for success groups in Sweden?" is a question I have been asked. The answer is, as we all know: Yes, but we call it "replokal" (rehearsal rooms).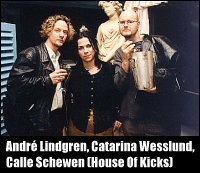 The big interest, to create and play music oneself, in combination with the favourable climate amateur bands in Sweden have today, together with the competent business people, is most certainly what have brought Sweden to its position as one of the largest music export countries in the world today.

If you want to read more about MIDEM, take a look at: http://www.midem.com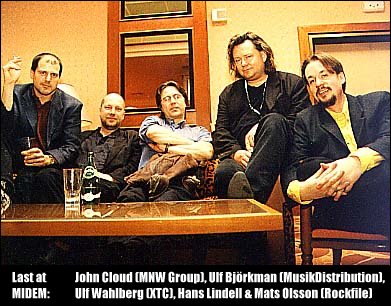 Text: (C) Hans Lindell - Rockfile News/Media
Photo: (C) Mats Olsson - Rockfile News/Media
Translation: Erik Söderström - Scandinavian Indie



---





Last updated Apr 14, 1997 by Erik Söderström
You are Sin's MIDEM@Cannes 97 visitor 765 since November 2019 .

---