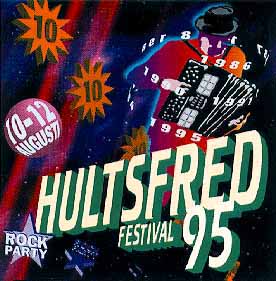 ---
Line-Up (as of August 12th, 1995)
4 Kazzazzaz
Amen
Anitas Livs
Argus Jass Group
Ash (UK)
Autocrash
Bahnhof
Beef
Black Grape (UK)
Brandgul
Breach
Broder Daniel
Buckshot O.D.
Candysuck
Cardigans
Cast (UK)
Cat Rapes Dog
Chemical Brothers (UK)
Chickenpox
Cinnamon
Daily Planet
dEUS(*)(*) (B)
Di Leva
Dia Psalma
Dizzy Miss Lizzy (DK)
Docenterna
Dodgy(*) (UK)
Dread Zone (UK)
Electric Eskimoes
Eläkeläiset (SF)
Entombed
Filter (US)
Gene(*) (UK)
Tobias Gustavsson
H-Blockx (GER)
Hans & Greta
Hardy Nilsson
Hedningarna
Honey Is Cool
Indian Time med Mynta
Infinite Mass
Katzen Kapell
Kent
Kosmos Club feat. Microman Live, DJ Alexi Delano, DJ Joke
Latin Kings
Levellers(*) (UK)
Lisa Nilsson
Lousy
Marion (UK)
Massive Attack (UK)
Menswear (UK)
Millencolin
Mouth(@)
Nationalteatern
Pantera(*) (US)
Paul Oakenfold (UK)
Posies (US)
Psyched Up Janis (DK)
Räserbajs
Satanic Surfers
Sator
Shredhead
Sindy Kills Me
Singer
Skeleton Woman och Cut The Bones & Suck My Marrow
Slayer(*) (US)
Sleeper (UK)
Snapcase (US)
Starmarket(@)
Supergrass(*)(*) (UK)
System 7(*) (UK)
Teddybears
The Almighty (UK)
This Perfect Day
Tiamat
Total Chaos (US)
Tricky (UK)
Trio Lligo
Två Blåbär
Type-O-Negative(*)(*) (US)
Underworld (UK)
Urban Turban
Velvet Belly (N)
Whale
Wild Rover
Wildhearts (UK)

Key:
(*) = Other homepage for the same group/artist
(@) = Information about this group/artist exists on this site
---
The festival took place between the 10th and the 12th of August. The Location was Hultsfred, Sweden. Tickets were 600 Skr (in advance). Day-tickets were available for two of the days there.
---





Last updated Dec 25, 1995 by Erik Söderström
You are Scandinavian Indie's Hultsfred 95 page visitor number 1364 .

---