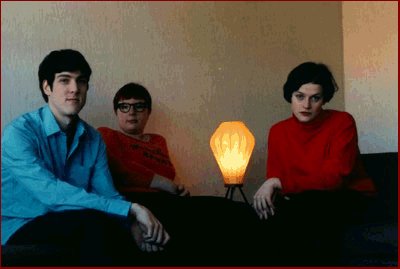 Aquadays Reviews.

Demos

  Somersault, April 1994, Time: 15.00

  1. Squealer     (4.58)
  2. Autumn Swirl (3.17)
  3. Lachrymose   (3.42)
  4. Absence      (3.30)
This tape is no longer available.

Demo review by Urban Århammar in Popöga #110, january 1995:
"...those who, judging by their name, think that the four tracks on the demo are
sweet Eggstone-poppers are mistaken. This is more in the arty pop-spirit of
some of the bands on the 4AD label. The band now running in Popögas old
cassette deck is Somersault's first recording and it contains four tracks. 4AD
in that that it is dreamy, floating pop that is being presented. A male and a female
voice trade places or join together and soon enough it is clear that the greatest
influence isn't any 4AD band, it's Slowdive. Shoegazerpop that dare to look up
and forward and demands its rightful place even in the middle of the 90's. If
Somersault breaks free from their inspirational shadow, just a bit, and add
some elasticity to their music, they would be well on their way."

  Ultramarine, April 1995, Time: 28.00

  1. Mother-Of-Pearl (2.40)
  2. Lachrymose      (3.42)
  3. June            (4.10)
  4. Autumn Swirl    (3.17)
  5. Squealer        (5.07)
  6. Gem             (3.14)
  7. Lustre          (3.10)
  8. Ocean Venus     (3.11)




                 This tape is no longer available.




Demo review by Ninni Brunnberg in Sound Affects #28, autumn 1995
with a score of 4 out of 5:
"These are eight beautiful, airy songs that, thanks to
crispy, melodious guitars and Klara Albinsson's very, very bright little voice,
floats around me in a remarkably nice way. "June" could just as well be a Lush
hit, "Gem" is great touching pop and if you listen to the very last pieces of "Ocean
Venus" it all almost forms into rock'n'roll! If Slowdive only had 10th of the feeling
for great melodies that this band has, we wouldn't have to argue if shoegazing is
good or not."

Demo review by Magnus Johansson in Aveny, june 23rd, 1995 with a
score of 6 out of 6 (demo of the month, record deal next):
"Summer pop
that makes the hair in your neck stand. In the class for Cocteau Twins copies,
Somersault has an honorary place right after Lush, Sundays, The Rose
Chronicles
and Slowdive. Don't get me wrong, this is pure damn good.
Amazingly beautiful, brilliant songs, good vocals and all in all pure damn great
summer pop. Tracks like Lachrymose, June and Mother-of-Pearl makes the
hair in my neck rise, which I haven't experienced since The Rose Chronicles
released Eternity. How two girls and a boy from Alingsås succeed with the feat
to make me pull a long face must be further investigated.
- The dream is to tour, Martin Aamot says. But it is a bit weird, we have sent
the demo to magazines, record labels and festivals, and all that happened was
that a fanzine called Popöga from Vingåker made an interview with us. And we
played at the Angola gala at Packhuset a while ago.
In the name of justice, something more should have happened.
- I agree, we're actually pretty good. But around here in Alingsås, no one likes
our music. Though in Gothenburg, people are more positive.
Somersault started to play together in november 1993, Back then, it was Ride
and Lush. Today, the favourites are Gene and Stereolab.
- At first, we were influenced a lot, but we've reached our own sound now.
Somersault is probably the only band in Sweden with a sound like this, Martin
ponders. But our sound is probably a bit narrow, frankly speaking, because no
one dares to bet on us.
Place your bets on Somersault. Now."

Demo review by Erik Söderström in Scandinavian Indie, February 1996
with a top score:
Reading the review (above) in SA didn't leave me with any
any other alternative than to get a copy of the demo, and I'm glad I did. This is
is definitely the swedish Slowdive that I've hoped to find ever since their sad
break-up earlier this year. Swirly guitars, generous amounts of floating air,
beautiful, light vocals (both male and female) together with drums that would be
expected from an apprentice of Simon Scott. And even though the duet vocals
sometimes gets a bit rough on the edges, I get that happy feeling in my stomach.
"June" is a wonder with guitars that makes the hair in my neck rise, and I can't
sit still to "Autumn Swirl", the vocals here are just in perfection and the guitars
are amazing. These two songs would get them signed on the spot to my label.
Unfortunately I don't have one.






Records

A Chance To Shine, CD, Dorian Records 1996, Time: 72.17
Please see the Scandinavian Indie CD Review














Page originally created March 18th, 1997.


---






  

Last updated Mar 19, 1997 by Erik Söderström

You are Aquadays' Reviews visitor 348 since November 2019 .




---