Pray for Peace
When I was a kid, I used to collect stamps. A part of my stamp collection is devoted to space motives. Another part is stamps from the United States of America.
USA has a lot to be proud of. The First Man on the Moon stamp, for instance, speaks of a daring and successful adventure. And the story behind the Clara Maas stamp nearly moved me to tears. What courage! To volunteer to be infected by the mosquito, to try to determine if that might be the cause of the yellow fever. She gave her life says the stamp.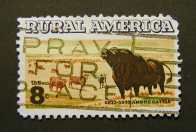 And then I stumbled across this 1973 stamp featuring Angus Cattle. What caught my eye was not the stamp itself, but the cancellation: Pray for Peace. The Vietnam War was coming to an end, and apparently the USPS was stamping Pray for Peace on the back of letters.
It is sad that today, we still need to pray for peace. I'm thinking about Iraq. I'm thinking about Afghanistan. Those wars might be over, but there is still a long way to go until there is peace.
God, help those in power,
to wield the power wisely.
Remeber the many innocent,
comfort them, and give them hope.
I don't know how the situation in Iraq can ever be resolved. I'm fearing that the scars of Saddams regime and fall will be visible in the region 50 years from now. The only thing I can do is pray for peace.