Xalf

X11 Application Launch Feedback

(or: "Something to look at while Netscape is loading")
---
Xalf is a small utility to provide feedback when starting X11 applications. Feedback can be given via four different indicators: An invisible window (to be used in conjunction with a task pager like GNOMEs tasklist_applet or KDEs Taskbar), an generic splashscreen, an hourglass attached to the mouse cursor or an animated star.

Old pages with background & developer information is here


News
2003-04-06
GNOME 2.X does not contain Xalf hooks, like GNOME 1.X did. Instead, GNOME2 includes support for the startup-notification protocol instead. This is a robust and future-safe solution to the problem Xalf was originally designed to solve. I'm pleased to see that support for launch feedback finally is gaining widespread support. The Xalf project has succeeded!
2001-04-22
Xalf 0.12 is ready.
2001-04-08
Xalf 0.11 released.
2001-04-04
I've been working on making Xalf more stable and fixing the known bugs. This has lead to lots of internal changes. Therefore, I've releasing a test-version. If it works good, it will become version 0.11. Please let me know if there are problems. I'd also like to hear from you if it works good, especially if you are running on a non-Intel and/or non-RedHat system.

2001-03-13
Version 0.10 released. Only bugfixes.
2001-03-07
Version 0.9 released. Node understands "/bin/sh -c <command>". This makes Xalf work much better with GNOME when command is setuid/setgid or non-existent. Some portability changes have also been done. Works with GTK+ 1.2.9.
2001-02-19
Xalf 0.8 released. Changes: Removed -Wall, so Xalf can be compiled with other compilers than gcc. Better strings in capplet and moved capplet to Desktop.

Xalf is now included with GNOME and has a Bugzilla module on bugzilla.gnome.org


2001-02-11
Xalf 0.7 released. Changes: Fixes problems related to glibc and setuid applications. Thanks to Frederic Crozat <fcrozat@mandrakesoft.com> for providing a patch.


2001-02-11
Xalf 0.6 released. Changes: Some sanity checks, better handling for non-X11 applications and more.


2001-02-11
Xalf 0.5 is available. The only change is a fixed bug in the Control Center capplet.


2000-10-29
I am planning for a Next Generation Xalf software. It will probably use an CORBA server.
2000-07-12
Some new screenshots and an updated gnome-libs-RPM.
Linux magazine has an article about Xalf in the current issue. (Sorry, Japanese language only.)
2000-06-18
Xalf 0.4 is available. New features: GNOME Control Center capplet and a new animated indicator.


Download
xalf-0.12.tgz
xalf-0.12-1.i386.rpm
xalf-0.12-1.src.rpm

Old releases are also available.

Xalf is in GNOME CVS, in module "xalf".
GNOME integration
Recent gnome-libs have builtin-support for Xalf. All you have to do is to install Xalf and enable it in Control Center. Some notes:

Xalf is controlled via the file ~/.gnome/xalf. This file can be controlled via GNOME Control Centera.
You can prepend NO_XALF to desktop entries commandlines, to disable Xalf for a specific application.
Usage example
Use Control Center to enable Xalf indicators.
In /usr/share/gnome/apps/Gmc.desktop, change Exec=gmc to Exec=NO_XALF gmc. (The easiest way to do this is to use gmenu). Gmc doesn't launch new processes, and this makes it work better with Xalf.
You can use splashscreen for some applications. For example, in /usr/share/gnome/apps/System/gnorpm.desktop, change Exec=gnorpm to Exec=NO_XALF xalf --splash gnorpm.
Screenshots
GNOME Control Center capplet
"invisiblewindow" indicator (default)

"splash" indicator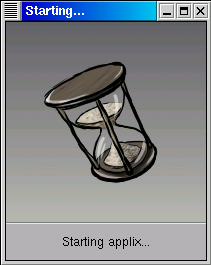 "cursor" indicator

"animated star" indicator