Transportation to Chicago
---
Here's a handy map to help you find your way around the city...
---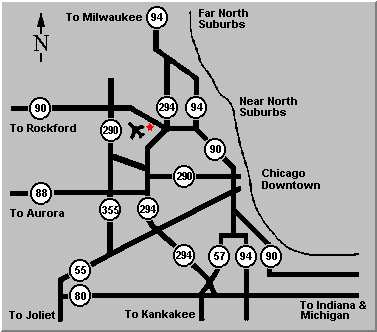 Map courtesy of the City of Chicago, Department of Aviation
See detailed map of Rosemont Area
---
The Ramada O'Hare is located at 6600 North Mannheim Road in Rosemont, just north of the intersection with Higgins Road. Phone number is 312-827-5131. That stretch of Mannheim Road is US Routes 12 and 45, and Higgins Road is Illinois Route 72. There is an exit off the westbound Northwest Tollway (I-90) that puts you at Touhy and Lee, slightly northwest of the hotel. The hotel runs its own shuttle vans to O'Hare at no charge.
---
Public Transportation
Chicago Transit Authority (CTA): The "El" runs their Blue Line out to O'Hare. If you come in on Amtrak, get on the Blue at Clinton/Congress, 2 blocks south of Chicago Union Station. (Chicago Union Station is between Clinton and Canal, Adams and Jackson.) If you come in to Midway Airport, take the CTA Orange Line in to the Loop, then switch to the Blue Line at Clark/Lake. The Greyhound Bus Terminal is also near the Clinton stop on the CTA Blue Line, specifically at Harrison/Des Plaines. Call 312-836-7000 for CTA route info, 708-836-7000 in the suburbs.
Suburban buses: In the vicinity of O'Hare, local transit is run by PACE. Their bus 220 runs from O'Hare, past the hotel on Mannheim Road, and on to two different commuter rail stations (see below). Bus 221 runs from the River Road stop on the Blue Line, past the hotel on Mannheim Road, then heads out on Wolf. Call (312 or 708) 836-7000 for info on them, too.
Commuter rail: the hotel is a couple miles south of the Des Plaines station on the C&NW ("The Northwestern" to locals) Northwest Line, which runs from North Western Station in downtown Chicago to Harvard. You can take PACE bus 220 from this station. Bus 220 also runs very near the Glenview station on the Milwaukee Road's North Line from Chicago Union Station to Fox Lake. Note that bus 220 does not run after about 7:00 PM or on Sundays and that the ride from Glenview is time-consuming (like about 45 minutes).
---
Back to Chicago Page