Chicago Test Sites
---
What's a test site?
A test site is an arcade or location (bowling alley, bar, etc) that a manufaturer has chosen to test a new game. These games are close to completion, but may require updates in the game's software, mechanical design, and difficulty settings. Game statistics are also closely monitored to determine which features need adjustment.
Since all three major manufacturers are located in Chicago, many arcades in the area are used as test locations for new games. If you're visiting Chicago for Expo and have the transportation available, you can visit these places yourself and try the latest stuff. Manufacturers tend to only show production games at Expo, so you may see things you wouldn't normally see in the exhibit hall.

---
Gala North
Games on test: The Shadow (Bally), Killer Instinct (video, Midway/Nintendo), Crusin' USA/Motion Cabinet (video, Midway/Nintendo), Virtua Cop (video, Sega)
Gala North Lanes (also called Galaxy World) is located on North Avenue (Route 64) and Gary Avenue in Carol Stream. Take I-90 from the Expo site to I-53 southbound. When I-53 splits, stay on 355 (left). Take 355 south to North Avenue, then go west about 6-7 miles to Gary Avenue.

---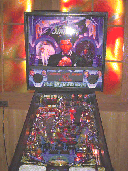 See The Shadow
---
Just for Fun
Games on test: Shaq Attaq! (Gottlieb/Premier)
Just for Fun is located in Town and Country Mall in Arlington Heights. Take I-90 from the Expo site to I-53 northbound. Exit I-53 at Palatine Road eastbound. The mall will be 2-3 miles ahead on the right.

---
Dennis' Place for Games
Games on test: n/a
Dennis' Place has two locations; one on Belmont and Sheffield in the city, and in Norridge on Lawrence and Cumberland. Here's the directions to the Norridge site:
From the Expo site: take Mannheim Road south until you reach Lawrence Avenue. Turn left and go east on Lawrence until Cumberland. Dennis' Place is in the strip mall behind the bank and the Mobil station on the southeast corner of the intersection.
From I-90: Exit at Cumberland Avenue southbound, go 2-3 miles until Lawrence Avenue.

---
Back to Chicago information
Back to Main Expo Page